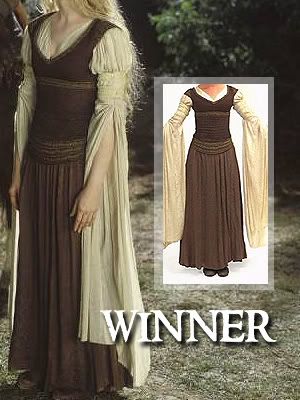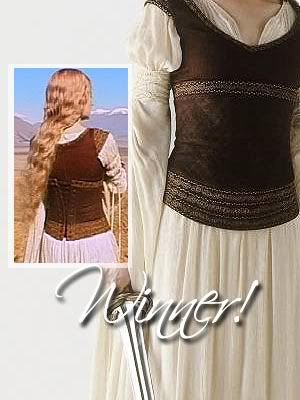 KO was ... well, KO-ed. ;)
Vote out that least favourite in Round 4!
Victory Dress
This unusual gown doesn't get good coverage in Rotk! But it is worn during the victory celebration in Edoras: "Westu Aragorn, hal."
Ice Blue Coat
This, sans the jewelled vest worn with the above costume, is worn in Rotk. Eowyn sleeps by the fire in Meduseld. The two costumes have the same underdress, so you are really voting for your favourite look for it here - with coat or with vest.
Funeral Gown
From TTT. In the extended edition, Eowyn wears this during the funeral of Theodred and sings her dirge. It also appears in the next scene, where she feeds and comforts the refugee children. It is pictured here without cloak.
Victory vs Ice Blue Coat vs Funeral Gown
Feeling:
busy
Music: poison - alice cooper