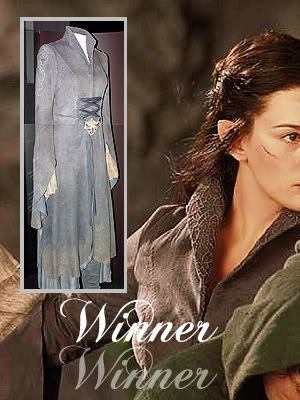 The Coronation Gown was voted out in favour of the Chase Dress.



Do not vote for your favourite. The idea is to vote OUT your least favourite!

Weta White
This gown does not appear in the movies - but has the briefest of glimpses in one of the trailers. There is a shot of Arwen smiling, moving forwards. This is rumoured to have been from a flashback scene of Arwen and Aragorn's meeting, where they dance together. The gown is thus named as it features on a Sideshow Weta Arwen figure - which also happens to be the best shot of the gown, as shown here.

The Arch Dress
Though seen in some lovely promotional images, this gown is also cut from the film. It is believed to have been from that far-out storyline of Arwen traveling to Lothlorien and then going on to fight at Helm's Deep. In some shots it appears blue, in others, purple. What snazzy colour-changing fabric it has!




Note: This is the last preliminary round!