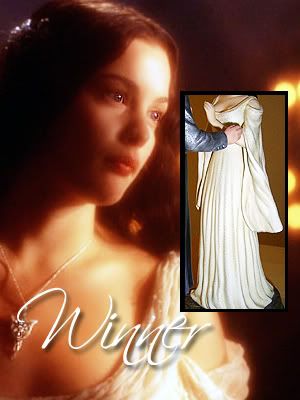 The Bridge Gown trumped over the Hope Dress which was voted OUT!
Remember you are voting your least favourite out! Do not vote for your favourite!
Though I think you've all got the hang of it now. ;)
Narsil Cloak
Seen briefly in the ROTK, Arwen wears this cloak as she approaches the shards of Narsil and recites 'All that is gold does not glitter' poem.
Halo Dress
Most people know the 'tale of two dresses'. This is, of course, the original 'angel' dress and is seen in Fotr when Arwen first rides up to Frodo and dismounts Asfaloth (with the light of God exploding behind her!) It was later scrapped because it was too heavy and awkward for kneeling over Frodo. Or so the story goes!
Narsil Cloak vs Halo Dress
Feeling:
bouncy