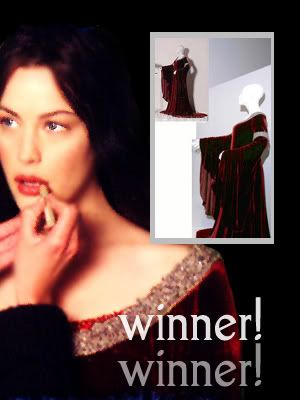 The Lavender Bead was voted OUT in favour of the Cranberry Gown.
Bridge Gown
Appearing first with a shawl, the Bridge gown is literally that - it's the gown Arwen wears on the bridge when giving Aragorn the Evenstar. This WETA model is the best full-length picture of the gown I could find.
Hope Dress
Seen in TTT, Arwen daydreams of Aragorn and when her father urges her to leave Middle-Earth, she whispers "there is still hope..." thus, the name, the Hope Dress.
Do NOT vote for your favourite! Remember you are voting out your LEAST favourite!
Bridge Gown vs Hope Dress
Feeling:
busy