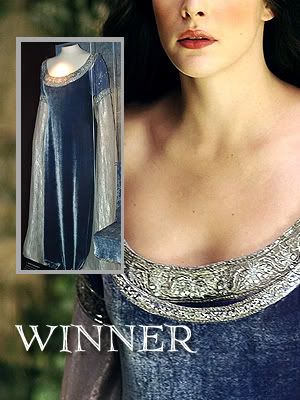 I must admit this result surprised me! I really had thought the Blood Red Gown would win...but it was voted out!
Lavender Bead
This dress belonged to that alternate storyline where Arwen journeys to Lothlorien and goes on to fight at Helm's deep. There are several good quality photos online of her sitting by Galadriel's mirror, one of them including Galadriel herself. The gown never appears in any of the movies.
Cranberry Gown
This costume has a very brief appearance in TTT - so brief, you only see the neck detail! It is when Aragorn lies unconscious on the shores of the river and, in a dream or hallucination
where Aragorn is actually making out with his horse
Arwen kisses him awake. It is apparently Liv Tyler's favourite costume.
Do NOT vote for your favourite! Vote OUT your least favourite!
Lavender Bead vs Cranberry Gown
Feeling:
weird
Music: brain damage - pink floyd