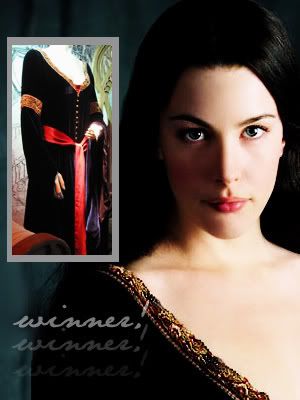 The Angel Gown was voted out in favour of the Mourning Gown!!
Now on to Round Three!
Battle Gear
Most people know the story of this deleted sequence. Arwen and Elrond go to Lothlorien and from there she marches to Helm's Deep with Haldir's company and fights there. Good pictures of this costume are hard to find.
Rose Gown
This gown is briefly glimpsed in one or two of the trailers. The apparent premise of its scene was that, when Frodo awakens in Rivendell, goes out to the balcony and looks down, he sees Arwen and Aragorn together below. She is wearing this dress. (Possibly with cape not pictured here.)
Feeling:
sad
Music: kiss the girl - sebastian the crab